Single-unit events recycling system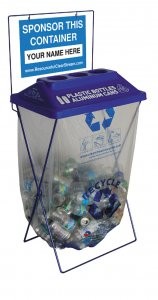 Designed to make events recycling simpler and more affordable, ClearStream ONE is a single-unit events recycling system, with a sign that attaches to the frame. Previously, this product was available only in packages of five.
ClearStream is a portable, transparent recycling bin that helps crowds easily determine what to do with recyclables. Its durable, heavy-duty construction holds up to the stresses of a typical venue, and the stackable lid and foldable frame make the ClearStream easy to pack up and move between events. The ClearStream ONE also comes with a large billboard sign kit for education and advertising sponsorships.
Company info