Optimag L-series lightweight lifting magnets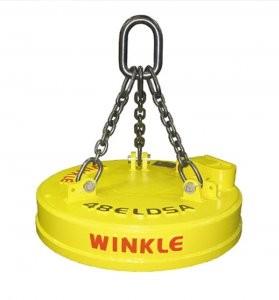 Winkle's OptiMag "L-Series" lightweight lifting magnets for scrap recyclers now includes two model ranges; LDSA magnets, updated from the previous LSA standard, and a new ELDSA line, created specifically for smaller hydraulic scrap handling machines. Winkle says the new L-Series models were updated with the latest version of the company's proprietary computer modelling software, and offer increased lifting capacity with lighter-weight magnets, as well as reduced costs through improved manufacturing and material efficiencies.
The LDSA and ELDSA types are both recommended for fixed and mixed loads in general duty scrap handling applications, providing a large lifting surface and reduced total weight to best utilize a crane's load-lifting capacity. According to Winkle, the lightweight LDSA and extra-light ELDSA models typically provide a weight savings of four percent to as much as 14 percent over comparable competitive magnets, and come with heavy-duty mechanical features and deep-field coils.
The standard line includes models ranging from 30 inches to 72 inches in diameter. LDSA magnets range in weight from 1,025 to 7,750 pounds, with lifting capacity from 625 to 5,625 pounds. ELDSA magnets begin at 895 pounds, lifting up to 575 pounds, and range to a 72-inch, 7,500-pound unit able to lift up to 5,550 pounds.