Ballistic separator produces premium low-copper shred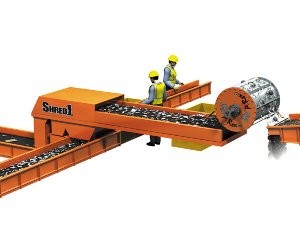 Eriez' new Shred1 Separator uses ballistics to effectively separate iron-rich ferrous from much of the mixed metals and waste material in a post drum magnet flow.
This separator delivers three distinct fractions: a premium low-copper content #1 shred, a traditional #2 shred and a heavy/light/waste mix. Fraction one is a high-value, low-copper content ferrous product with a higher value than a #2 grade fraction. According to Eriez, demand for this premium product is on the rise. Fraction one contains 60 to 80 percent of flow, contains less than 0.2 percent copper, and does not require any picking.
Fraction two represents approximately 20 to 30 percent of the flow and contains mostly mixed metals, copper and aluminum with steel housings or cores. Hand sorting can be accomplished with relatively few pickers because only a fraction of the total shredder discharge is picked. Fraction three consists of heavy steel objects and light material, such as fluff, rubber and some wire. This fraction can be picked with fraction #2 or stockpiled and re-processed later. Fraction three contains five to seven percent of the flow.
According to Eriez, when a Shred1 Ballistic Separator is combined with the company's P-Rex Permanent Rare Earth Magnetic Drum, it creates the CleanStream Process, which recovers more ferrous and concentrates 75 percent of the post drum magnet flow into a low-copper premium shred. It also eliminates the need for a scavenger magnet, a z-box air system and hand picking the entire flow.
Eriez recently announced that they have teamed up with American Pulverizer (APCO) to offer a CleanStream process integrated with an APCO 60-inch by 85-inch shredder, along with various other Eriez separators and magnets and a Hustler conveyor.