Full line of orange peel grapples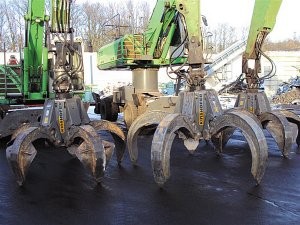 Kinshofer's full line of orange peel grapples includes P22V, P30V, P40V and P51V models, with four or five tines, and for excavators from 16 tonnes (35,200 pounds) to 50 tonnes (110,000 pounds) operating weights.
Unit load capacities range from 15,000 pounds to 22,000 pounds with volumes ranging from 0.59 cubic yards to 1.96 cubic yards, and closing forces range from 3,750 lb.-ft. up to 7,260 lb.-ft. at an operating pressure of 5,075 psi.
Hydraulic cylinders on these orange peel grapples are fitted with replaceable piston rod protection and are hydraulically cushioned, and oil distribution and hydraulic hoses are protected in the carrier or in the centre section.
Company info
Related products