Large-scale windrow turner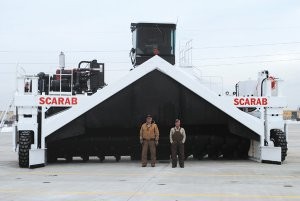 Scarab's largest windrow turner model is a 27 x 11 model (27-foot tunnel width by 11-foot tunnel height) and is one of the biggest in production in the world. Units are available with track drive or wheel drive, with standard flail drum and auger style sizes from 32 inches to 66 inches (OD), and horsepower from 385 hp to 630 hp. Six-foot to 18-foot models are also available.
Features of Scarab turners include a choice of standard drive system or a pad saver model for toe-to-toe windrows, as well as a choice of Caterpillar, Cummins, Detroit Diesel, and John Deere diesel engines. These units use a high-capacity radiator and offer a choice of track- and tire-drive systems to handle the most adverse pad conditions, as well as either a hydraulic or belt driven drum.
A digital load controller is standard on all machines to ensure maximum power and fuel efficiency, and these unit's heavy-duty frame and drive assemblies with independent suspension are designed to "float" the machine across varying terrain. Units feature an open design for easy access and lower maintenance costs, as well as a spacious and ergonomic cab with panoramic view and three rear-facing cameras. Also in the cab, an intuitive joystick control simplifies training and operation.
A variety of options are available, including an anti-vandalism package which includes locking caps on all fluid reservoirs and fill openings, an automatic fire suppression system, and spray and odour suppression systems. Scarab Manufacturing
More from Organics Recycling
Single-Ram and II-Ram High-Capacity Balers
At Machinex, we've been designing sorting systems for over 35 years, so we know how essential it is for MRF operators to have a baler they can trust and not worry about its operational reliability. This is why we design and manufacture reliable single-ram and II-ram high-capacity balers to specifically help optimize their operations.
Watch the video of our expert who presents the main features of Machinex balers delivering these important benefits:
Easy & accessible maintenance
Reduced maintenance & bale handling costs
Energy savings
Optimal bale density
For C&D recyclers, waste haulers, demolition contractors and landfills, there is a growing opportunity to profit from rethinking processes. Although every operation is different, by streamlining the front end of the C&D operation processes with purpose-built technologies, recyclers can tap into new end markets, accommodate higher material volumes, stay ahead of regulatory restrictions, increase recovery rates and add commodity revenue, while decreasing labor and other costs.
Download the new eBook to learn about:
Finding opportunities in the alternative to landfilling C&D
How facilities can increase their profits from C&D
Using the right C&D processing technology in the right locations