Quick set up, portable screener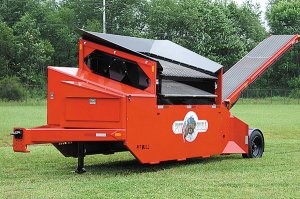 The Pitbull 2300, commercial-grade portable screener can be towed virtually anywhere via several hitch options, sets up in minutes, and will screen dirt and debris with maximum productivity. These screeners are manufactured with high quality construction and feature a 47-hp Tier 4 compliant diesel engine, a two-tier shaker table with quick-change two-piece screens, a hydraulic levelling system, and an adjustable height stacking conveyor.
The Pitbull Screener offers a large 78-inch x 76-inch screen area with a deep loading apron that allows for fast loading of material with a front end loader or excavator. A dual tier shaker table design includes two sizes of screens that can be quickly changed, with standard screen openings from ¾-inch to 3-inch square.
A 20-foot long heavy duty stacking conveyor is hydraulically adjustable in height from 4 feet 6 inches to 13 feet, for stock piling or loading directly into a truck or other equipment.
Company info
Related products
More from C&D Recycling
But we've been successfully sorting paper on the front end with optical sorters since 2005. Why have we been so successful? Because we know it's not JUST about the optical. We focus on your entire operation, so you make the most of your fiber line. Is your optical sorter living up to its potential? Call us at 203-967-1100 for a free system evaluation.
Traditionally, recyclers across Canada have sent a huge percentage of their recovered scrap metal to Hamilton, Ontario, or Pennsylvania in the U.S., via open-top rail cars and truck trailers. The scrap is then melted down and turned into new steel. This is still the case for much of our scrap steel, but recently the growing trend toward containerization has introduced new opportunities for efficient, cost-effective shipping of both non-ferrous and ferrous materials to overseas markets.