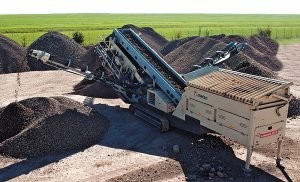 The newest addition to Metso's Lokotrack screen product group is the Lokotrack ST3.5. This tracked mobile screen offers an ideal cost-effective solution to a wide range of screening applications, is designed with compact transport dimensions, high quality components, and is made to meet the latest global health and safety legislation.
The standard ST3.5 Lokotrack is capable of producing two-sized fractions, and depending on the application, can have an optional two-deck vibrating grid installed to yield three-sized fractions. These screens are equipped with an aggressive 3,580 mm x 1,500 mm (11'7" x 5') screen box which gives an effective one-deck screening area of 5.3m2 (57ft2). Plus, a new CAT4.4 75kw (100-hp) diesel engine, together with an efficient hydraulic system, enables trouble free operation, even in demanding applications and extreme climate conditions.
The ST3.5 also has four identical meshes, lowering stock requirements to meet different and diverse applications, as well as an advanced control system based on low voltage components. Stoppages are avoided through the use of high quality components, and lower operating costs are achieved via improved fuel economy through an 'increased efficiency' hydraulic system. The machine's compact dimensions and low transport weight also add value through lower transport costs.
Company info
Related products