Scissor-effect of PREMAC Hydro provides perfect cut and constant size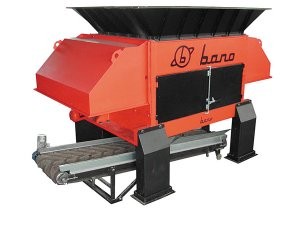 The Bano PREMAC Hydro is designed to provide high performance in the shredding of a wide range of materials. The PREMAC Hydro uses a variable slow-speed single-shaft system, offering precise cutting, combined with a screen to set desired output size, and a hydraulic pusher for constant and self-regulated feeding.
Units are designed for versatility, to produce a homogeneous and well-defined end-product, and are customizable with easy, quick and low cost maintenance, as well as low noise, minimum dust generation, and no danger of fire or explosion hazard. Key to this unit's efficiency is its high performance hydraulic transmission, precise cutting system and its screen. The hydraulic transmission assures high performances and allows for the processing of a huge number of different types of waste. Torque and speed are also set automatically according to the material, which increases the application range.
The PREMAC Hydro works using a scissor-effect cut, obtained by opposing the blades placed on the rotor to the counter blades fixed to the machine body. Blades and counter-blades are also reversible and adjustable. The final size of material is constant due to the presence of an interchangeable screen that allows users to choose the output size according to the selected screen holes. All tools can be replaced easily and in a very short time by a single operator.
This shredder is equipped with a pusher which operates with an automatically variable pressure, and is regulated according to the shredding effort. It forces material against the rotor, increasing production and helping the shredding of bulky and voluminous wastes.
Units range from the 18-70 model to the 28-90, with performance ranging from two to 15 tons per hour for aluminum scrap, car bodies, light ferrous, and electric wires, and from one to 40 tonnes per hour for materials such as industrial and domestic waste, WEEE, tires, plastics, wood and paper.
More from Metals Recycling
Single-Ram and II-Ram High-Capacity Balers
At Machinex, we've been designing sorting systems for over 35 years, so we know how essential it is for MRF operators to have a baler they can trust and not worry about its operational reliability. This is why we design and manufacture reliable single-ram and II-ram high-capacity balers to specifically help optimize their operations.
Watch the video of our expert who presents the main features of Machinex balers delivering these important benefits:
Easy & accessible maintenance
Reduced maintenance & bale handling costs
Energy savings
Optimal bale density
For C&D recyclers, waste haulers, demolition contractors and landfills, there is a growing opportunity to profit from rethinking processes. Although every operation is different, by streamlining the front end of the C&D operation processes with purpose-built technologies, recyclers can tap into new end markets, accommodate higher material volumes, stay ahead of regulatory restrictions, increase recovery rates and add commodity revenue, while decreasing labor and other costs.
Download the new eBook to learn about:
Finding opportunities in the alternative to landfilling C&D
How facilities can increase their profits from C&D
Using the right C&D processing technology in the right locations