Weldco-Beales introduces full line of magnet grapples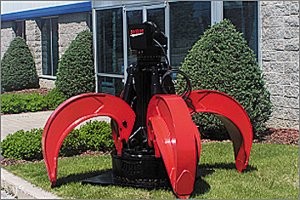 Weldco-Beales Manufacturing has introduced a full line of magnet grapples. The company's Mag Grab product line-up now includes MG 50, 75, 100, 125 and 150 models, which are ideal in single-crane scrap yards, and for handling all incoming and outgoing ferrous scrap. Standard specifications include 360-degree continuous rotation, high torque reversing drive motors that come with an integral relief valve, fully guarded slew ring and pinion to prevent damage and contamination, and high pressure and low friction rotary swivel seals with J-style back-up rings.
Weldco's design incorporates cylinder hoses that are routed internally to prevent damage during operation, and an open framework allows easy access to cylinders, hoses and fittings. The tines have deep box section construction with AR400 steel in high-wear areas, and built-in tine stops eliminate cylinder stress.
A heavy-duty aluminum wound magnet comes standard with the Mag Grab and is rated at 4 kW. The magnet slip rings are rated for 60 W / 230 VAC, and custom-designed corner dowels prevent the magnet from becoming loose. Eight grapple models are available, with magnet sizes ranging from 30 to 50 inches and grapple capacities ranging from 0.38 to 1.15 cubic metres (1/2 to 1.5 cubic yards). Jaw openings are from 84 inches to 118 inches.
Complimenting Weldco's Mag Grab is a new line of portable, compact, belt-driven magnet gensets equipped with a reliable Kubota engine. Units are available in 10kW and 15kW sizes.