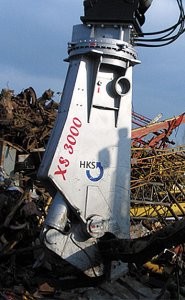 Part of Vibra-Ram's range of mobile scrap and demolition shears, the XS series are designed for a variety of applications, ranging from the demolition of steel constructions and cutting operations, to the scrapping of motor vehicles and big vehicle tires.
Units feature a reverse, built-in hydraulic cylinder with oil supply via the piston rod. When the shear arm is closing the thick-walled cylinder tube moves outwards and the piston rod remains in the housing. Therefore the piston rod is perfectly protected against damages.
XS series shears also feature a large- dimensioned shearing arm bearing, which means minimal wear of pin and bushing is present. The unit's strong shear arm is made of wear-resistant fine grain steel with reinforcing plates on both sides, which serve as wear plates. Plus, the front cutter, wear cutter and wear tip in interaction enable the cutting of thin-walled material, components, tanks, carriage superstructures, motor vehicles, buses and similar materials. Other key features include: 360-degree full rotation; wearing tips that enable an easy penetration of the shear arm through steel structures, tank walls, ship walls, vessel walls or large diameter pipes; main cutters that can be turned four times; front and side cutters that prevent shear arm jamming; and a housing made of strong, fine grain steel.
Terrafirma Equipment is the North American dealer for Vibra-Ram Shears and Pulverizers, as well as HKS Actuators. www.terrafirmaequipment.com