Sweed's line of alligator shears continues to grow
Latest model: 16-90 shear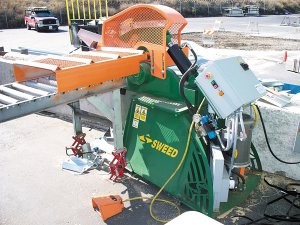 Sweed's line of alligator shears are designed to be simple to operate and feature fast cycle times while maintaining a high cutting force for tough scrap material, such as steel, bar, wire, cable, plates, tubes and other mixed metal products. Sweed now offers three models of alligator shears to accommodate various scrap handling needs: the 10-27 mini-shear, the 16-50 shear (shown here) and the latest model, the 16-90 shear.
The new 16-90 shear is a heavy-duty cutter designed for recyclers in need of a larger cutting capacity without the bulkiness of a bigger piece of equipment. The 16-90 alligator shear features all of the benefits of the 16-50 shear, but with a 10-hp motor, offers nearly twice the cutting force (within the same footprint). This stout shear is suitable for cutting medium gauge ferrous and heavy nonferrous materials.
All Alligator shears from Swede feature a remote foot control unit and incorporate a safety interlock, which immediately opens the jaw at any point in the cycle when the operator's foot is removed from the pedal. Fork pockets are mounted at the base of each shear for ease of mobility, reducing strain on the operator and maximizing production.