Remote controlled demolition robot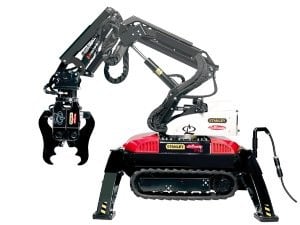 Stanley LaBounty recently introduced the F16 Remote Controlled Demolition Robot. The company's first entry into the middle-weight segment is a track-based, electrically-driven carrier weighing 3,417 pounds. Units are designed for selective dismantling of concrete slabs, stairwells, walls and other interior structures, and due to a very high power-to-weight ratio and low centre of gravity, the F16 is able to operate safely and effectively using 500 ft. lb. impact class breakers and 1,500 ft. lb. drop hammers.
Four self-stabilizing outriggers function separately, automatically raising and lowering to maintain consistent machine balance on uneven surfaces. Along with a four-point detachable boom, the F16 features the first continuous and unobstructed 360-degree rotation, and a telescopic arm that reaches to 16.4 feet.
Additionally, a proprietary hydraulic circuit, a standard F16 feature, enables any Stanley LaBounty mounted attachment to operate concurrently with 120 different Stanley Hydraulic Tools handheld tools. Plus, matched radio frequency between the controller and the receiver allow multiple F16's and other remote controlled devices to operate in close proximity, an exclusive efficiency and safety feature. The Stanley LaBounty F16 Remote Controlled Demolition Robot also functions as a hole digging and materials handling machine.