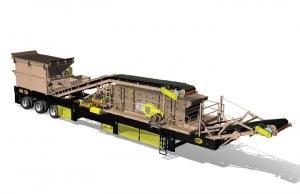 Deister Machine Company, Inc. recently announced the latest addition to its complete line of vibrating, feeding, scalping and screening equipment – the Deister portable horizontal screening plant.
These units are available in 6-foot x 20-foot and 8-foot x 20-foot models, and are offered in a number of custom configurations suitable for in-pit portability or ease of transport from site to site, in concrete and asphalt recycle operations, as well as in crushed stone and sand and gravel. Centred on the performance of the Deister heavy-duty horizontal triple-shaft vibrating screen, each custom plant is engineered for maximum longevity, value and uptime.
Deister portable horizontal screening plants feature walking beam tri-axle suspension as well as access ladders and walkways on both sides and front of the 6 x 20 screen (or hydraulic folding on one side of the 8 x 20 screen). Other key features include: centralized grease points; chutes and hoppers lined or made from AR 400 plate; a 60-inch undersize conveyor below the 6x20 screen (or an 84-inch undersize conveyor on the 8x20 screen); 30-inch motorized head pulley cross conveyors (or 36-inch on the 8x20); and self-cleaning, wing-type tail pulleys.
Optional features include a feed hopper with a heavy 36-inch conveyor that includes impact area (42-inch conveyor on the 8x20); a tilt grizzly on the dump hopper with hydraulics; a 42-inch screen feed conveyor (48-inch on the 8x20); a four-leg hydraulic leveling package with 12 VDC power pack and filtration; hydraulic cylinders to fold the conveyor and additional cylinders to adjust discharge height; six or eight hydraulic leveling/run-on cylinders powered by a Honda engine; and spring loaded belt scrapers.