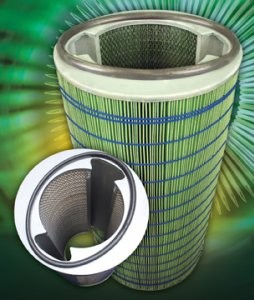 A new HemiPleat NoOval replacement filter from Camfil Farr Air Pollution Control offers high filtration efficiency, excellent energy performance and long life. Designed with an innovative "oval to round" configuration that allows a perfect fit into down flow-style dust collectors that use oval filters, the patent-pending HemiPleat NoOval filter carries a no-risk performance guarantee from the manufacturer. It is ideal for improving overall performance or solving problems such as short filter life with existing dust collectors.

The new filter features an exclusive Nano fiber media that is strong enough to handle the most difficult dust challenges. Its open-pleat design allows greater media utilization for more effective cleaning and lower pressure drop - resulting in greatly extended filter life and energy savings. The Nano media comes in moisture-resistant (standard) or fire retardant versions, both with 99.99 percent efficiency on 0.5 micron particles or larger (MERV 14/15). Customers may also request regular (non-Nano) HemiPleat cellulose-blend media in high efficiency, ultra high efficiency, flame retardant or carbon-impregnated versions.

All models replace 26"-long oval filters and are available to fit straight-style or triangular-style yokes.
Related Articles
For C&D recyclers, waste haulers, demolition contractors and landfills, there is a growing opportunity to profit from rethinking processes. Although every operation is different, by streamlining the front end of the C&D operation processes with purpose-built technologies, recyclers can tap into new end markets, accommodate higher material volumes, stay ahead of regulatory restrictions, increase recovery rates and add commodity revenue, while decreasing labor and other costs.
Download the new eBook to learn about:
Finding opportunities in the alternative to landfilling C&D
How facilities can increase their profits from C&D
Using the right C&D processing technology in the right locations