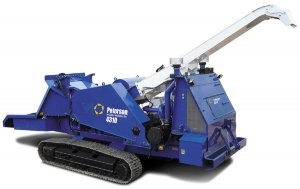 The 4310 drum chipper is the latest in a long line of chipping and grinding machines produced by Peterson. These units are ideal for high volume biomass producers who have a wide variety of feed material, from logs up to 66 cm (26 inches) in diameter, to brush and small feedstock.
The 4310 is powered by a 570kW (765-hp) C18 Caterpillar engine, and at 23,586 kg (52,000 pounds) it is designed for operations requiring high production and tracks for frequent moves between jobs. The chipper uses a 914mm (36-inch) diameter by 102mm (40-inch) wide drum. Other key features include a sloped feed deck and wear-resistant AR 400 surfaces.
The 4310's new generation of controls includes Peterson's high-production Adaptive Control System, which provides self-diagnosis for faulty sensors and open circuits.
Company info
29408 Airport Rd
Eugene, OR
US, 97402

Read more