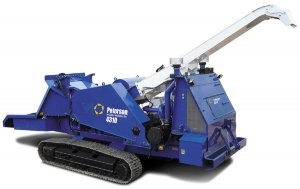 The 4310 drum chipper is the latest in a long line of chipping and grinding machines produced by Peterson. These units are ideal for high volume biomass producers who have a wide variety of feed material, from logs up to 66 cm (26 inches) in diameter, to brush and small feedstock.
The 4310 is powered by a 570kW (765-hp) C18 Caterpillar engine, and at 23,586 kg (52,000 pounds) it is designed for operations requiring high production and tracks for frequent moves between jobs. The chipper uses a 914mm (36-inch) diameter by 102mm (40-inch) wide drum. Other key features include a sloped feed deck and wear-resistant AR 400 surfaces.
The 4310's new generation of controls includes Peterson's high-production Adaptive Control System, which provides self-diagnosis for faulty sensors and open circuits.
Company info
29408 Airport Rd
Eugene, OR
US, 97402

Read more
More from Organics Recycling
Single-Ram and II-Ram High-Capacity Balers
At Machinex, we've been designing sorting systems for over 35 years, so we know how essential it is for MRF operators to have a baler they can trust and not worry about its operational reliability. This is why we design and manufacture reliable single-ram and II-ram high-capacity balers to specifically help optimize their operations.
Watch the video of our expert who presents the main features of Machinex balers delivering these important benefits:
Easy & accessible maintenance
Reduced maintenance & bale handling costs
Energy savings
Optimal bale density
For C&D recyclers, waste haulers, demolition contractors and landfills, there is a growing opportunity to profit from rethinking processes. Although every operation is different, by streamlining the front end of the C&D operation processes with purpose-built technologies, recyclers can tap into new end markets, accommodate higher material volumes, stay ahead of regulatory restrictions, increase recovery rates and add commodity revenue, while decreasing labor and other costs.
Download the new eBook to learn about:
Finding opportunities in the alternative to landfilling C&D
How facilities can increase their profits from C&D
Using the right C&D processing technology in the right locations