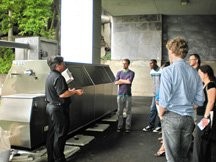 The Big Hanna Composter is designed for simple, safe, efficient local food waste composting and is available in five different models for processing from 75 to 1,200 kgs per week. These in-vessel units compost meat, fish, dairy products, garden waste and most other organic matter.
Big Hannah composters are long-lasting, contain odours, provide a complete in situ solution, and are ideal for hotels, hospitals, restaurants, schools, food courts, resorts or residential. With these units, aeration and turning happens automatically, and finished compost is fed into a bag or bin, ready for use. Units are completely customizable, with options including a bin lift and a hopper fed inlet. Average process time is 8 to 10 weeks
Vertal Inc.
More from Organics Recycling
Single-Ram and II-Ram High-Capacity Balers
At Machinex, we've been designing sorting systems for over 35 years, so we know how essential it is for MRF operators to have a baler they can trust and not worry about its operational reliability. This is why we design and manufacture reliable single-ram and II-ram high-capacity balers to specifically help optimize their operations.
Watch the video of our expert who presents the main features of Machinex balers delivering these important benefits:
Easy & accessible maintenance
Reduced maintenance & bale handling costs
Energy savings
Optimal bale density
For C&D recyclers, waste haulers, demolition contractors and landfills, there is a growing opportunity to profit from rethinking processes. Although every operation is different, by streamlining the front end of the C&D operation processes with purpose-built technologies, recyclers can tap into new end markets, accommodate higher material volumes, stay ahead of regulatory restrictions, increase recovery rates and add commodity revenue, while decreasing labor and other costs.
Download the new eBook to learn about:
Finding opportunities in the alternative to landfilling C&D
How facilities can increase their profits from C&D
Using the right C&D processing technology in the right locations