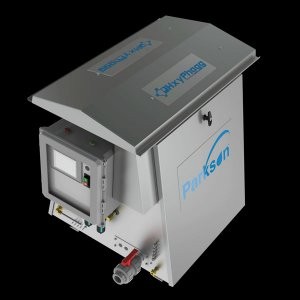 Parkson Corporation offers the OHxyPhogg, an odour removal technology with a patented air atomizing three-fluid nozzle. The OHxyPhogg combines ozone, water and air creating 5-micron-sized oxidant-enriched water particles that efficiently disperse and fill partially or fully enclosed spaces such as lift stations, wet wells, holding tanks and headworks. The oxidant fog rapidly and efficiently reacts with H2S and other reduced sulfur compounds removing the unpleasant odours. The OHxyPhogg technology also aggressively and effectively breaks down fats, oils and greases, virtually eliminating not only the buildup but the costly pumping and discharging of FOGs.
More from Environmental
Single-Ram and II-Ram High-Capacity Balers
At Machinex, we've been designing sorting systems for over 35 years, so we know how essential it is for MRF operators to have a baler they can trust and not worry about its operational reliability. This is why we design and manufacture reliable single-ram and II-ram high-capacity balers to specifically help optimize their operations.
Watch the video of our expert who presents the main features of Machinex balers delivering these important benefits:
Easy & accessible maintenance
Reduced maintenance & bale handling costs
Energy savings
Optimal bale density
For C&D recyclers, waste haulers, demolition contractors and landfills, there is a growing opportunity to profit from rethinking processes. Although every operation is different, by streamlining the front end of the C&D operation processes with purpose-built technologies, recyclers can tap into new end markets, accommodate higher material volumes, stay ahead of regulatory restrictions, increase recovery rates and add commodity revenue, while decreasing labor and other costs.
Download the new eBook to learn about:
Finding opportunities in the alternative to landfilling C&D
How facilities can increase their profits from C&D
Using the right C&D processing technology in the right locations