Solution for wastewater solids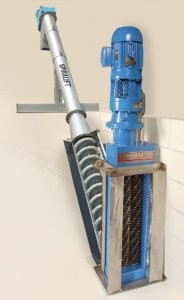 The SPIRALIFT SL fine screens, washes, transports and compacts wastewater solids while leaving essential organics in the flow. This system is easy to install in existing channels, reduce solids disposal costs and protects downstream equipment. The SPIRALIFT is a fully integrated system which includes: a powerful TASKMASTER 7 grinder, a shaftless screw screen, and control system which coordinates the system=s normal and special functions. The PLC based control system uses flow level data to cycle the screw to minimize power and wear. By combining the benefits of a rugged TASKMASTER l grinder and a dependable screw screen, the SPIRALIFT system is uniquely effective and trouble-free.
These units are provided standard with stainless steel screens and screw housings. The SPIRALIFT can be supplied with a choice of electric or hydraulic drives and a variety of channel widths, flow and lift requirements. Special options include bagging system, heat tracing or ultra-sonic level sensors. Additional models are available for septage receiving and screening conditioning.