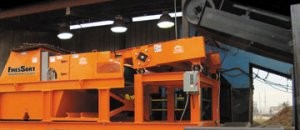 Building on the success of the FinesSort Metal Recovery System, Eriez has introduced the FinesSort Jr. Specifically targeted toward recycling facilities where operational space is at a premium, the compact design of the FinesSort Jr. allows for efficient recovery of 1-inch and smaller fines, and will help recyclers increase profitability and send less metal particles to landfills.
Similar to the FinesSort, the FinesSort Jr. receives discarded "fines" material that have passed through an initial screening process and creates three material streams: a clean ferrous product stream, a clean nonferrous metals stream, and a waste stream. These units are engineered with a 24-inch diameter AIP Pulley and a 60-inch Xtreme Eddy Current Separator (ECS) which creates its clean fines streams.
"Ferrous materials are pulled out as they are conveyed within the AIP Pulley's magnetic field," explains Mike Shattuck, Eriez Heavy Industries Project Manager. "The ferrous scrap is held to the belt until it reaches the underside, passes out of the magnetic field and is separately discharged into a clean ferrous stream."
The second stage reclaims the valuable nonferrous metals. Here, the Xtreme Eddy Current Separator is specifically designed to recover fine nonferrous materials that a recycling centre's main ECS would otherwise miss. The nonferrous fines material is propelled by the special ECS into a cross conveyor and from there into collection bins. Also at this stage, light non-metal materials (fluff) fall out of the stream through a chute onto a waste conveyor.
According to Eriez, "fines" material represents roughly 20 percent of an original total flow. Within the fines, generally less than five percent is recyclable metal, dependent on the mix of product being scrapped. Although five percent of the fines or just one percent of the total stream may seem insignificant, reclaiming these valuable metals can be worth hundreds of thousands of dollars annually.
Eriez
Company info
Related products