Sweed adds alligator shears to product line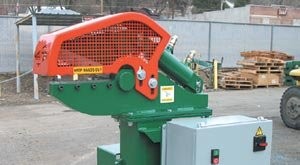 Ideal for facilities needing to cut scrap down to size, or for enabling shredders to handle oversized materials that would otherwise be difficult or sometimes impossible to process, these new alligator shears are designed for handling all types of mild steel, bar, wire and cable, various metal products, plates and tubes. Units will allow scrap processors to "clean" or prepare scrap for shredding by removing unwanted fittings or other parts the shredder may not accept, which adds value to scrap and improves the quality of processed scrap.
The Model 10-27 Mini Shear (shown top) is an easy to operate and highly portable machine that can be operated from all angles. Despite its small stature, the 10-27 Mini Shear offers powerful and reliable performance. Designed to fulfill the need for a portable trimming and clearing shear, the Mini Shear can be used for trimming fittings off copper tubing, cutting reinforcing steel to length and cutting up production rejects. This unit has a shearing capacity of 27 tons and a 10-inch blade length.

Sweed's Model 16-50 Shear (shown below) is ideal as a cleaning shear for light to medium reduction of ferrous and non-ferrous materials. A large oil reservoir and cooling unit allow this shear to operate in extreme weather conditions without overheating. The16-50 has a shearing capacity of 50 tons and a 16-inch blade length, making it well suited for cutting skeleton plate, reinforcing bar, light mesh material and mild steel round bar.

Sweed's alligator shears are easy to use and maintain, and operate using a variable speed/pressure pump, which allows for fast cycle times while maintaining high cutting forces for tough scrap material. Both the 10-27 Mini-shear and the 16-50 feature a remote foot control unit and incorporate a safety interlock, which immediately opens the jaw at any point in the cycle, when a foot is removed from the pedal. Additionally, fork pockets are mounted at the base of each shear for ease of mobility, reducing strain on the operator, and resulting in maximized production.