Magnetic belt feeder cleans and separates shredded tire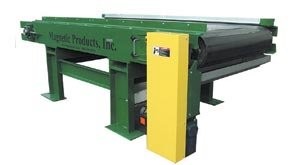 Ideal for tire recyclers and various other recycling operations, MPI's Magnetic Belt Feeder (MBF) is designed to efficiently convey, separate and sort shredded tire "chips." Shredded tire remnants travel along the machine's conveyor. Contaminated chips – those with embedded ferrous contaminant – stick to an integrated magnet pulley located beneath the conveyor belt. Ferrous-free chips drop into a designated hopper located at the end of the conveyor, and contaminated pieces are transported to a separate bin via a chute directed under the MBF.

According to MPI, to meet the stringent requirements of the recycling industry, the MBF features proprietary high-strength magnets, ensuring that the most minute pieces of metal are discovered.

These units are built for extremely rugged industrial environments, are constructed with welded steel plate, and boast a direct drive motor with VFD soft start and a maximum speed of 22 feet per minute. Two access doors on the machinery allow for quick and easy cleaning of the rotor.