Dust control for the jobsite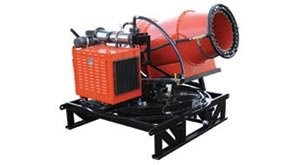 Dust at work sites can decrease visibility, shorten the life of equipment and most importantly expose workers to numerous health risks. The Dust Destroyer uses a Yanmar, 4TNV98T-ZNSA, EPA Tier III compliant, four cylinder, 80HP continuous duty diesel engine at 2200RPM. It projects tiny droplets of water into the air removing dust which helps with safety, health, and environmental problems on construction, demolition and scrap sites. The dust suppression machine projects 20-250 feet of water with 27,000 sq. ft. of coverage, ranging from 0-75 feet high and 0-60 degrees of oscillation with additional options, including booster pump and chemical odour control. The range, power, and safety (diesel engine, no electrical issues) of The Dust Destroyer makes it a leading dust control system.
Booth 1881
More from Environmental
It's harder than ever to get clean paper. But we've been successfully sorting paper on the front end with optical sorters since 2005. Why have we been so successful? Because we know it's not JUST about the optical. We focus on your entire operation, so you make the most of your fiber line. Is your optical sorter living up to its potential? Call us at 203-967-1100 for a free system evaluation.