EZ Composter is now more compact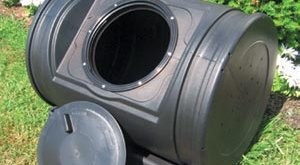 The new EZ Composter Jr. has all the easy operating features of the original EZ Composter, except in a smaller package. The original EZ composter has a capacity of approximately 12 cubic feet of compost, while the new Jr. has a capacity of approximately seven cubic feet. The EZ Composter Jr. retains many of the features of its predecessor, including the use of 98 percent recycled plastic, sturdy molded construction, a wide 12-inch hard shell injection molded lid, wheels for easier turning, and many aeration holes for quicker drainage and compost making.
The EZ Composter Jr.'s simple design means garden and kitchen waste can be turned into valuable organic material in mere weeks. Units also rotate and include a black finish, which aids in quick compost making. The EZ Composter Jr. comes fully assembled with a low to the ground profile and is an ideal size for shipping.
More from Organics Recycling
Single-Ram and II-Ram High-Capacity Balers
At Machinex, we've been designing sorting systems for over 35 years, so we know how essential it is for MRF operators to have a baler they can trust and not worry about its operational reliability. This is why we design and manufacture reliable single-ram and II-ram high-capacity balers to specifically help optimize their operations.
Watch the video of our expert who presents the main features of Machinex balers delivering these important benefits:
Easy & accessible maintenance
Reduced maintenance & bale handling costs
Energy savings
Optimal bale density
For C&D recyclers, waste haulers, demolition contractors and landfills, there is a growing opportunity to profit from rethinking processes. Although every operation is different, by streamlining the front end of the C&D operation processes with purpose-built technologies, recyclers can tap into new end markets, accommodate higher material volumes, stay ahead of regulatory restrictions, increase recovery rates and add commodity revenue, while decreasing labor and other costs.
Download the new eBook to learn about:
Finding opportunities in the alternative to landfilling C&D
How facilities can increase their profits from C&D
Using the right C&D processing technology in the right locations