Standardizing equipment key to growth
Strategy designed to control costs, improve reliability and streamline maintenance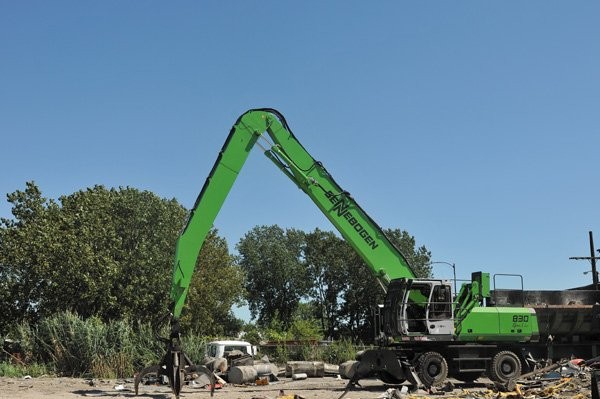 Brookfield Resource Management, is a fast-growing recycling company with operations in the New York City and Chicago areas, as well as in India's Punjab state. As the company expands, one of its key strategies involves standardizing the equipment used at its various locations in an effort to control costs, improve reliability and streamline maintenance.
During approximately the past year Brookfield has acquired two auto-salvage companies in metro New York and formed a new metal and end-of-life vehicle (ELV) recycling company in Chicago. With plans to open or purchase additional locations in the future, Brookfield's management decided to identify a fleet of reliable, cost-effective machinery that would be used at every location.
"Brookfield plans to open new facilities and enter additional geographic markets in the future, so it makes sense to standardize our equipment," said company President Tom Malone. "This approach lets you gain a better understanding of your equipment and eases maintenance and inventory management.
"You can exchange parts between locations, for example, or if a mechanic in Chicago has trouble solving a problem, he can call our other locations to see if someone can help with advice."
According to Brookfield, months of research went into their decision making process, which included visits to factories where the equipment would be built. Company managers considered purchase price, customer support, the availability of parts and reliability. They also drilled down to assess details such as how much fuel a machine consumes.
The differences in operating costs sometimes were dramatic, with one machine consuming two or three times as much diesel as a similar machine made by another company. Fuel is expensive, but it's also an expense that can be controlled in part by carefully selecting the most fuel-efficient equipment available.
Purpose-built scrap handlers
The recent formation of a brand-new Brookfield subsidiary in Chicago Heights, Illinois, provided the perfect opportunity for the company to identify the equipment it would phase in at its other locations. The main workhorse of their new Chicago facility is a Sennebogen 830 material handler, and large grapple. Brookfield already utilized a Sennebogen 835 at its Elmsford, N.Y. headquarters and was impressed by its fuel efficiency and reliability. The company's Sennebogen machines are powered by Cummins engines that are easy to maintain, and use parts that are readily available, reducing potential downtime.
"The Sennebogen 830 is a very user-friendly machine, with a cab that can be raised and lowered to help the operator see what he's doing," said Malone. "It's also extremely fast and able to do a number of different tasks in the yard." "It's a purpose-built machine built for their industry and to their specs," said Anthony Laslavic, regional sales manager with Sennebogen LLC in Charlotte, N.C.
"It's very simple, with no computers or electronics on the machine to cause any problems or failures, which gives you outstanding uptime. We also pride ourselves on making a machine that's extremely fuel efficient. Our machine will use 3 to 3.5 gallons an hour while one of our major competitors is going to burn essentially double that amount. That provides a tremendous savings."
The 830 also been designed with careful attention to safety and easy maintenance. The engine and lubrication points are within easy reach, and a sliding door to the operator's cab greatly reduces the risk of falls. Railings on other parts of the machine also reduce the risk of falls. "A lot of safety is built into our machines," Laslavic said.
Baler/logger
The Sennebogen loader's speed and flexibility let Brookfield save money when it came time to purchase a Sierra RB6000 logger/baler. Many companies purchase the RB6000 with a crane attached, but Brookfield decided against this approach.
"The Sennebogen's grapple will be used to load the logger, and allows the operator to get more work done because the employee can continue working while the logger completes its work," said Malone. "An employee operating a crane dedicated to the baler, on the other hand, would be idle because of the machine's single-use nature."
"Sierra International's RB6000 was the first logger/baler able to process automobiles as well as light iron and other metals when it hit the market about 12 years ago," said Joe Droukas, the company's East Coast sales manager. "This pioneering machine allowed scrap-metal companies to process a wide variety of metals with a single machine, potentially eliminating the need for multiple pieces of equipment."
"The beauty of the 6000 is if you want to bale cars, you do cars. If you want to bale your light iron you can do it when you're not doing cars," said Droukas. "It's neither fish nor fowl – it's a very flexible machine."
The RB6000 can also run a cycle in about a minute, giving it the ability to process up to 25 cars an hour. According to Sierra, this is much faster than previous auto crushers that might require five or 10 minutes per vehicle. A final strength of the RB6000, Droukas said, is its ruggedness.
"We have virtually zero downtime," he said. "The most important thing that the customer needs to do is keep that machine greased."
Excavator and shear
For Brookfield, the machine of choice for handling large pieces of metal that need to be cut down to manageable size is a Komatsu PC350 with a LaBounty MSD 3000 shear. The company previously owned a PC300 and found it to be very fuel efficient, so they purchased a slightly upgraded model for its new Chicago yard. Komatsu's strong customer support, Malone said, was another consideration when choosing the PC350 as a mainstay at its facilities.
"Brookfield is very meticulous about their maintenance and record keeping," noted David Cruise, territory manager with Roland Machinery, a Komatsu dealer in Bowling Brook, Illinois. "On our machines the Komtrax system is a satellite-based reporting system that provides very detailed information not only on the health of the machine, but also how many hours it was idling, how many hours it was working, fuel consumption, a wide range of information that is helpful to managers. You even can see if you can decrease the size of your fleet by better utilizing the equipment."
The Komtrax system, which is included in a machine's purchase price, also provides detailed information regarding maintenance and the performance of parts.
"It saves money on maintenance because we can troubleshoot the machine before the mechanic gets there. Komtrax will let you know if an air filter needs to be replaced before the customer even knows he has a problem. It's a very user-friendly system."
Komtrax even provides information that will improve the quality of the next generation of Komatsu machinery, which is designed in Japan and built in Tennessee. Komtrax provides a large database tracking the performance of various components and this database can be analyzed to identify parts with unexpectedly short lifespans or high failure rates.
De-pollution rack
A final piece of equipment in Chicago that is expected to become a standard feature at Brookfield's facilities is a SEDA de-pollution rack, which has a two-level system that makes it easy to remove parts and fluids from end-of-life vehicles. The SEDA rack and other equipment needing compressed air are served by a Kaeser screw-type air compressor.
The various fluids taken from vehicles – oil, Freon, anti-freeze and transmission fluid, among others – are withdrawn into segregated storage tanks and ultimately sent offsite for recycling. After the fluids and parts such as mercury switches are removed, the end-of-life vehicles are broken down into their various types of metal and plastic for recycling.
Software
Identifying equipment that will be used across its locations was only one element of Brookfield's equipment-management overhaul. A second, equally important part was the introduction of Arsenault Associates' Dossier software, which provides information about equipment maintenance, operations and expenses. Brookfield says their Dossier software removes doubt about when maintenance will be needed, and can be used for yard equipment as well as trucks. Brookfield has adopted maintenance cycles at 250, 500, 1,000 and 2,000 hours of use. Dossier provides advance notice so yard work or shipments can be planned accordingly.
The future
Over time, Brookfield plans to offer recycling services for a wide variety of products and materials. Most recycling companies traditionally have focused on a single type of product, such as paper or end-of-life vehicles. Brookfield, however, believes beneficial economies of scale can be achieved by accepting a wider range of materials.
"Brookfield is focused on becoming a highly efficient, horizontally integrated recycling company," Malone said. "Aggressive expansion is part of our business plan to position the company to handle a wider variety of recyclable material in broader market segments."