21-inch brush chipper offers three engine options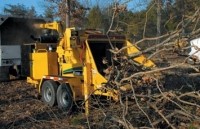 The Vermeer BC2100XL brush chipper includes three engine options, two horizontal feed rollers, a belt-tensioned clutchless cutter drum, and a large 72-inch (183 cm) wide feed table. Units are available with a 215-hp (160 kW), 250-hp (186 kW), or 275-hp (205 kW) Tier 3 Cummins diesel engine, and provide the capacity to process limbs up to 21 inches (53 cm) in diameter. The lower horizontal feed roller on these machines has been offset from the upper horizontal feed roller by 11 inches (28 cm) toward the end of the feed table. This allows material to be pulled to the upper feed roller for easier feeding and lessens the need for manual control of the upper feed roller for large-diameter material. The feed rollers boast a theoretical combined pulling force of 10,000 pounds (4,536 kg) which provides the ability to pull in whole trees, and helps reduce the need to reposition material while feeding.Additionally, a SmartCrush system automatically increases the down pressure on material being fed, allowing the upper feed roller to easily climb onto large material before the increased down pressure is applied, for maximum pulling force.

Other key features of the BC2100XL chipper include: gear teeth rings which help grip material and act as a vine ripper; a belt-tensioned clutchless design; a patented SmartFeed system; and heavy-duty tandem torsion axles. Options include manual or hydraulic outriggers and a remote control.
Company info
Related products