SC-series breaker line expanded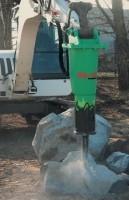 Tramac recently introduced its newest light-range breaker into the SC-Series line of hydraulic hammers. The SC-42 expands the SC-Series to a total of eight breakers to fit carriers from 2,200 to 30,900 pounds (one to 14 metric tons), and is meant to meet the needs and requirements of the skid steer, backhoe loader, and mini and mid-size excavator markets.

The SC-42 is for carriers from 11,000 to 26,500 pounds (five to 12 metric tons) and has an operating weight of 967 pounds (438 kilograms). With an operating pressure of 1,812 pounds per square inch (125 bar), the SC-42 has a flow range of 14.5 to 26.4 gallons per minute (55 to 100 litres per minute). This hydraulic breaker is rated at an impact energy class of 1,250 foot-pounds and has an impact frequency range of 550 to 1,450 blows per minute. Tool diameter is 3.31 inches (84 mil-limetres), and all units in the SC-Series include an automatic pressure regulator, upper and lower shock absorbers, an energy chamber that holds its charge without requiring regular nitrogen re-fills, easy maintenance features, and field-replaceable wear items.

Tramac has also recently released the V2500 into its line of heavy-range hydraulic breakers. The V2500 includes several new features and is for carriers from 59,500 to 88,200 pounds (27 to 40 metric tons). Units have an operating weight of 5,555 pounds (2,520 kilograms), an operating pressure of 2,248 pounds per square inch (155 bar) an impact energy class rating of 8,000 foot-pounds with an impact frequency range of 300 to 500 blows per minute.