Environmentally-friendly vertical balers and compactors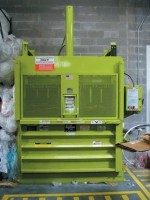 Marathon's GreenBuilt line of balers and compactors includes various models with reduced energy and fuel consumption features, as well as several solar powered units designed to offer speed and performance comparable to 10-hp machines. The solar units use one or two 24 Volt DC motors and solar panels to power premium deep cycle batteries for up to 100 percent of power requirements, with a 120 VAC backup charger. Models in the GreenBuilt line also feature cushioned ground rollers which last longer and reduce noise, and biodegradable hydraulic fluids are used.

The model V-6030HD vertical baler (shown here) is a five-hp energy ef-ficient unit with a submerged variable displacement pump. These balers feature maximum system pressure of 2,200 psi, 58 second cycle times, and bale sizes of 60 inches, by 30 inches, by 48 inches (WxDxH).

Other standard features of Marathon's high density vertical baler line include: a side-mounted power unit with submerged motor and pump, front facing panel box, and a redundant feed gate interlock system. Plus, Smart Relay technology adds safety features, easy setup, and diagnostic capabilities to these units, and a variety of optional features are available.