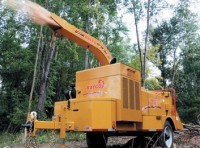 The Rayco RC 16.5 drum-style brush chipper, ideal for wood recycling contractors and municipalities, is a 17-inch (43 cm) capacity machine with a fuel capacity of 50 gallons (189 L). The RC 16.5 uses a 140-hp (104 kW) Caterpillar diesel engine, and includes Fuel Saver Technology which automatically decelerates the engine if the feed control bar remains in neutral for 60 seconds.

To eliminate clutch maintenance, the RC 16.5 uses a hydraulic clutch that engages at the push of a button and never needs adjusting. A Torflex idler makes belt adjustments simpler and does not require movement of the engine, and the top feed wheel is powered by a large planetary drive motor which provides plenty of torque, while eliminating the problematic couplers used by many competitive machines of this type.

These chippers also utilize an exclusive feed system engineered with offset wheels, allowing operators to feed short lengths of large diameter material with no "kick-up." Hydraulic lift assist is standard, and the unit's large diameter allows the feed wheel to effortlessly climb logs and dense material. A patented PULSE hydraulic system delivers 400 pounds (181 kg) of steady down pressure with an additional 2,200 pounds (998 kg) applied automatically every three or five seconds, totalling 2,600 pounds (1,179 kg).