LMW Series scrap handling magnets designed for heavy-duty lifting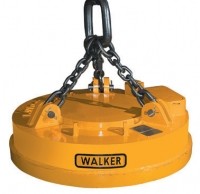 Walker Magnetics' new LMW Series Magnets are available in 48-inch, 57-inch and 66-inch sizes, and are designed for 75 percent duty cycle with deadweight engineered out to achieve a very high lift-to-weight ratio.

These scrap handling magnets are designed with rugged fabricated cases built from low carbon, high permeability steel for maximum lifting efficiency, and include heavy rolled manganese bottom plates, deep field construction and certified three-leg alloy steel chains for maximum durability. LMW magnets also feature an aluminum-wound coil for maximum lift-to-weight ratio, encapsulated in a high dielectric strength, moisture-resistant, resilient compound.
Other key features include all-class H insulation, inner and outer pole surfaces which are hard-faced with an abrasive, resistant layer of weld to retard wear, and a cast terminal box with a hinged cover for easy access and replacement of external lead. DC voltage is 230, AMPS (cold) are from 44 to 76, required kW are from 10 to 17, and magnet weights are from 2,900 to 6,550 pounds. Lifting capacities are up to 4,000 pounds (#1 heavy melting) and up to 5,000 pounds (plate punchings).