New generation of high production track grinders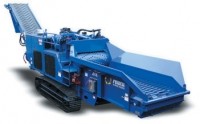 The 2710C is Peterson's latest generation of high production track grinders. Units are powered by a Cat C13 engine at 475 hp (354kW) or an optional C15 at 580 hp (433kW), and weigh in at 59,000 pounds (27,000 kg). The feed opening is 60-3/4 inches by 32 inches (1,534 mm by 813 mm) and a high lift feed roll provides an optional opening of up to 44 inches (1,118 mm) high.

The 2710C utilizes Peterson's new generation of Impact Release System that can be set in a detent mode to provide consistent product sizing, or switched to a floating anvil mode for primary reduction, where accurate sizing is less critical. The floating anvil mode provides more protection from contaminated feedstocks and reduced fuel consumption. The 2710C's new generation of controls includes Peterson's Adaptive Control System, and a fully adjustable feed system optimized for a wide range of materials. The new control panel provides self-diagnostics for faulty sensors and open circuits, with fault indicators for easy trouble shooting, and a large LCD display. An optional on-board modem permits remote diagnostics and monitoring of many machine parameters, and system pressure transducers and remote monitoring capability simplify set up and provide complete engine and system parameters.

The 2710C also features a large grate area that enables the production of materials to exact specifications, and a quick-change multiple grate system makes it easy to customize configurations to produce a wide variety of finished materials. Grates are removed through an access door on the unit's side wall.

Another major innovation included on the 2710C is Peterson's Impact Cushion System. Urethane cushions allow movement of the compression roll/ anvil housing pivot shaft, cushioning impacts caused by contaminants in the feed material. Plus, shear pins above the cushion and a sensing circuit that stop the engine, help protect the shaft from catastrophic damage in the event of a severe impact.
Company info