MAGNETIC SEPARATION EQUIPMENT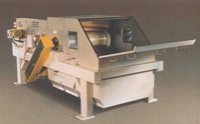 Walker Mag-netics National Limited based in Stoney Creek, Ontario, manufactures a magnetic separation line of products for the scrap, recycling and mining industry. The company's magnetic head pulleys are used to concentrate ferrous recyclables, as buying a machine,well as to remove tramp material which may damage crushers and conveyors. The same is true of the company's extended line of electro and permanent suspended magnets.

Magnetic drums which are used to recover the ferrous product from auto shredders also are manufactured at Walker's Canadian facility. Other available products include eddy current separators for aluminum recycling, glass cullet, electronic components and non-ferrous residue from shredder operations.