Combination rear eject/end dump bodies for scrap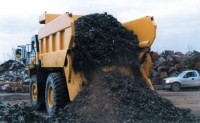 Ideal for scrap metal facilities, Philippi-Hagenbuch recently introduced customized 900 cubic-foot rear eject/rear dump combination bodies mounted on off-highway Komatsu HD325-7 trucks. According to their manufacturer, these versatile units deliver the first rigid-frame truck rear eject body for off-highway trucks, as well as the first rear dump/rear eject body.

These bodies were designed with various height and width constraints in mind, and feature a mechanical Autogate tailgate without hydraulic cylinders. When rear ejecting, the canopy, which is integrated into the ejector blade, moves with the ejector blade, and switching between the rear eject to the end-dump mode takes just moments. As with all PHIL Rear Ejects, there are no rollers or lubrication points.