New line of bucket linkage shears introduced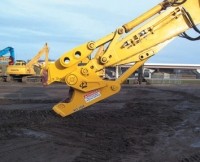 Stanley LaBounty has introduced BLS 2000 and BLS 3000 bucket linkage shears, a new generation with several key upgrades which not only improve performance but also reduce maintenance.

These new models feature the patented Saber Series blade system with a 180-degree reversible Saber Tip and lower cross-blade to provide the same benefit as seen with MSD Saber Series Shears.

Tapped cutting blades allow the shear blades to be easily removed, and with more bolt-on componentry, maintenance time is significantly reduced. Units also include an increased amount of high-strength steel in critical areas and increased pin sizes to withstand the higher forces generated by today's more powerful excavators. Plus, by fully wrapping the pivot group, vital components are protected from damage. These models are designed with multi-machine mounting brackets, allowing them to pin on several other carriers within their weight class.

BLS 2000 and 3000 shears are very easy to install and do not require additional hydraulics to operate, since they use the excavator's existing bucket cylinder and linkage. They are ideal for cutting lighter structural steel such as "I" beams, "H" beams, pipe, rebar, etc. where a larger shear is not required.

The BLS 2000 is designed for use with machines in the 40,000 to 65,000 pound (18 to 29 metric ton) class and the BLS 3000 is designed for machines in the 65,000 to 85,000 pound (29 to 38 metric ton) class.