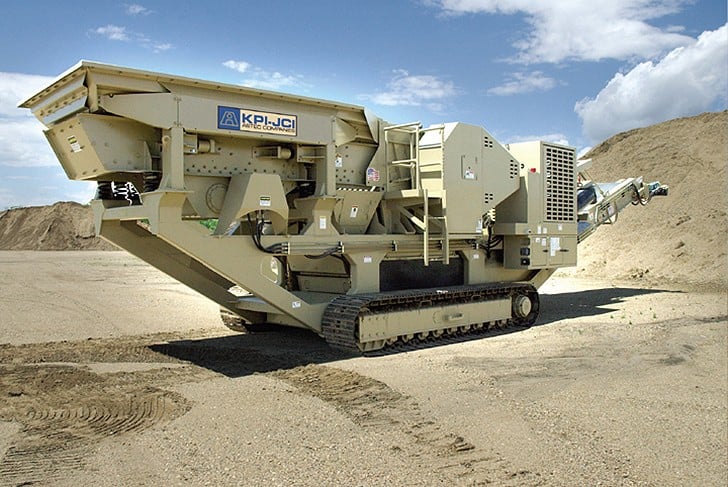 The Vanguard series from KPI-JCI and Astec Mobile Screens represents the very latest in jaw crusher technology. Engineered to be the highest capacity jaw crusher on the market, you can expect your Vanguard jaw crusher to deliver up to 25% more tons per hour (TPH) than other comparable jaw crushers. Pair that with the Vanguard Series' fierce durability and user-friendly design that keeps downtime to a minimum and you have a machine that will help you squeeze every cent of profit out of your operation.
Features & Benefits
PERFORMANCE
Large, dynamically balanced flywheels provide a smooth operation, thereby reducing peak horsepower requirements, yielding greater efficiencies.
Innovative Toggle Assembly
In-line support design includes replaceable toggle seats to minimize operating costs and protect your investment. Innovative configuration optimizes the crushing action for maximum capacity through the full range of closed-side settings.
Dual-Wedge-Adjust Assembly
This allows for quick and easy adjustment of the closed-side settings, eliminating shims, thus increasing safety and reducing the time and effort traditionally required to make adjustments.
Saddle Block Bearing Support
Outboard bearings are mounted in machined pillow blocks, which are bolted into machined cast steel saddles. Unique mounting procedure ensures correct alignment of the eccentric shaft and bearing assemblies for longer service life.
SPHERICAL SELF-ALIGNING BEARING
Heavy-duty roller bearings self-align to absorb the flex of the eccentric shaft and withstand both side thrust and heavy radial loads without the use of special side-retaining mechanisms.
REPLACEABLE BARREL PROTECTOR
Designed to protect the barrel of the pitman assembly from costly material wear, the barrel protector simply bolts into place for quick and easy change-outs.
EXCLUSIVE BEARING MOUNTING
Features common flinger collars, which allow for close spacing between side bearings and eccentric shaft bearings, thus minimizing shaftbending forces.
REPLACEABLE JAW RETENTION TIPS
Replaceable jaw die seat tips protect the jaw base and pitman from wear. Increases uptime and decreases overhead by guarding against costly repairs associated with the pitman, seat and base assemblies.
BASE CONSTRUCTION
The heavy-duty, single-side base construction is welded, stress relieved and machined for true alignment and a long-service life. Three-piece, side-base wear liner design allows for individual replacement of wear liners.