Skid steer loader combines power and agility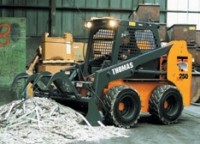 The brand new Thomas 250 Series skid-steer loader is engineered for high levels of performance and dependability equal to the challenges of rugged worksites where power, speed and reliability are vital. The 250 features an 87.5 horsepower (65.2 kW) Kubota turbo-charged diesel engine, bucket lift capacity of 2,500 to 2,600 pounds (1,134 to 1,179 kg), with optional counterweight, and travels at speeds up to over 7.5 mph (12.1 kmh).

Units are built around a heavy-duty mainframe, and include oversized hydraulic cylinders, high bucket and boom breakout forces (to over 4,450 pounds (2,018 kg), and a wide 48.75-inch (1,238 mm) wheelbase.