Tying a knot in baling downtime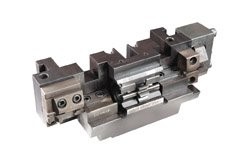 Obtaining and segregating a refuse stream or a recyclable stream is one challenge. Manipulating it into a manageable package is another. Using balers to handle this function is popular and preferable. Balers, of course, are typically used to compress material through the action of a powered ram that moves vertically or horizontally into and through a compression chamber. The ram compresses the chamber contents into a relatively compact, dense bale of material. The bale is then bound together at the end of the process using wire.
As recycling becomes more central to industrial and manufacturing processes, baling equipment is playing an increasingly important role in the efficient processing of recyclable materials. And effectively evaluating the performance aspects of baler machines is challenging. A recycling centre may spend hundreds of thousands of dollars on a high capacity unit only to find out that it is sitting idle due to a breakdown in a subordinate process linked to the baler, such as the wire-tying system.
For the user, a breakdown may cause an annoyance that can be rectified within minutes, or a major problem causing downtime for several hours when specialized assistance is not available. Either situation produces the same effect – lack of production, which is ultimately reflected in an organization's pocketbook.
Reducing wire-tie-related baler downtime
After the sorting and baling process is accomplished, the final and most important process is to apply wires to the bale to maintain its baled form. For many single stream recycling facilities who are running a baling operation in full automatic mode 24/7, wire tier reliability, ease of maintenance and safety is essential. Reducing baler downtime is critical, especially when it comes to the wire-tying system.
Unfortunately, in many instances, the market has come to accept downtime of the entire system while the wire-tie component is repaired. Fortunately, there are a few steps operators can follow to reduce the pain of wire-tie-related baler downtime.
At Waste Expo 2010, L&P Wire Tie introduced the industry's first removable tying module. Part of the new Pinnacle Wire-Tie System, this product's high-performance and ease-of-use design directly translates into increased production because of less downtime, simpler maintenance and safer operation. Units are designed to interface with all major baling machines and eliminate the delays and maintenance that can occur with traditional systems when parts first arrive.
The L&P Pinnacle Wire-Tie System uses a safely removable CORE module within the Pinnacle Knotter. Specifically, a unique SafeLatch enables operations personnel to safely access the CORE, remove debris and insert a replacement module. This design allows 80 percent of the wear parts to be replaced in less than five minutes, and baling operation can be up and running very quickly.
The L&P Pinnacle Wire-Tie System is capable of handling bundles of various sizes, requiring 13 to 18.5 feet of wire per bundle. It secures the bundle with a four-twist knot that allows for greater performance to help the package remain intact, despite expanding materials during shipment. Additionally, the four-twist knot approach enables waste managers and recyclers to use wire with greater yield that delivers the same performance as more expensive wire diameter options.
Quality consumables, training and preventive maintenance
Quality consumables are also a significant feature in optimum tying performance. Quality baling wire, as a consumable, remains a significant factor to a well tuned system and is a significant expense to a baling operation.
To the untrained eye "wire is wire". Unfortunately though, this is not the case. Stringent mill specifications and constant quality control lead to consistent physical characteristics and chemical properties, which allows for consistent knot formability. Care of wire once it is delivered to a plant though is still very important.
Preventive maintenance programs are intrinsic to minimizing the effects of unforeseen downtime. As with any complex piece of equipment, regular maintenance and tune-ups are critical to optimum performance. Failing to adequately maintain a wire-tying system can cause bale wires to improperly tie material, potentially resulting in bales breaking apart. Another added benefit of regular preventative maintenance is that it will help minimize overall wire waste, which can save an organization a significant amount of money.
To facilitate high percentage uptime, both training classes and preventive maintenance are key. Customers should send their operations personnel to be trained on "best practices" for operating tying systems. Usually, preventive maintenance and problem-solving are key themes in these classes. High-end vendors will offer custom-tailored preventattive maintenance programs for customers. These programs are typically designed to keep the tying systems up and running and in top form.
Finally, regularly replacing oil and keeping equipment clean will go a long way to ensuring uptime. All these steps might seem small, but they are critical to operating at maximum performance levels, which can in turn help reduce downtime. In a vulnerable economic climate, it's more important than ever to reduce downtime. When it comes to balers, purchasing high-efficiency machinery, looking for quality consumables and implementing preventive maintenance on the wire tying system will reap tremendous financial benefits. And it will ultimately maximize the productivity and life span of both the baler and the wire tie equipment.
L&P Wire Tie