Top Lift Enterprises expanding into new Ontario facility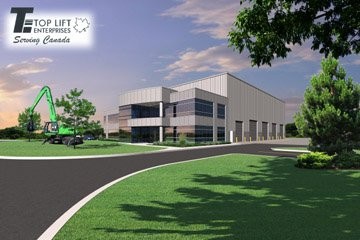 Top Lift Enterprises Inc. broke ground on its new head office location in Stoney Creek, Ontario this past September. According to Managing Director and co-founder David Shea, the company has had its sights set on expansion for several years, but other growth opportunities have been commanding their attention.
"For the last 10 years, we have focused on growing our Montreal and Vancouver branches," explains Shea. "In that time, we really outgrew our Ontario location. With this new building, we will be much better equipped to handle the growing volume of our business."
As the company took on new equipment lines, the eventual need for new space was quickly apparent. As properties near its present Teal Avenue location became available, the principals took advantage of the opportunities to prepare for their expansion. Co-founder and President Emidio Greco looks forward to consolidating his operations just a block away from the present site.
"We have been based in two different buildings on the same block for 20 years now and are happy with the location. It has great highway exposure and it's directly across the street from our 28,000 sq. ft. fabrication shop." When the project is completed, the head office address will move to 42 Pinelands Avenue.
To design the facility, Top Lift commissioned architect Kathryn Vogel of Ancaster, Ontario, and retained Abcott Construction Ltd. as the builder. The plans provide for 16,000 sq. ft. under roof; 10,000 sq. ft. will be devoted to shop space and will include four drive-through service bays and warehousing space for OEM parts inventories. The service area will be fitted with 3 large overhead cranes with capacities up to 50 tons. According to David Shea, "This will handle the heaviest equipment and components."
The office area will include video conferencing in the new boardroom to support ongoing communications with Top Lift offices in Quebec and BC. Multimedia features are also in planning to enable interactive learning in the site's training centre.
With construction finally underway, Top Lift expects to relocate to its new premises early in 2011. "It can't come too soon," says David Shea. "We have experienced terrific growth so far in 2010 and we are running a bit of ahead of economic recovery in this region. We will be ready to deliver a whole new level of service to customers as their businesses ramp up again."
Top Lift was established more than 20 years ago with a focus on servicing intermodal container handling equipment. Since then, the firm has developed as a major Canadian distributor of container handling, material handling and construction equipment, representing several leading OEM brands such as Terex, Terex Port Equipment, SENNEBOGEN and Doosan.