Three low-speed options for plant-based shredding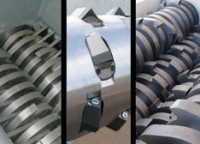 SSI's low-speed shredding technologies for plant-based document destruction applications include the Dual-Shear two-shaft shredder, the Uni-Shear single rotor shredder, and the Quad four-shaft shredder. All of these models are suitable for paper recycling applications as well as a variety of other operations. Plant-based systems use the same technology as mobile units, they just use larger shredders with more horsepower since space, weight, and power constraints are not as critical.

The Dual-Shear is a two-shaft shredder ideal for a range of document destruction applications, and is designed to be economical, reliable and comparatively low maintenance. The Dual-Shear utilizes a series of cutters which shear paper into uniform width strips. The strip width ranges from 5/8-inch to 1.25-inch, depending on the cutter configuration. The low-speed (10-40 rpm) high-torque nature of the cutters on these units is also suitable for processing various materials such as light electronic media like tapes and CDs.SSI's Uni-Shear is a single rotor shredder that utilizes a different type of cutter than the Dual-Shear, operates at a higher speed, and uses a sizing screen. The advantage of the screen is particle size control. A two-inch screen for example will destroy all documents with little chance of a document passing through the system without being shredded and produce a consistent two-inch or smaller output particle. The uniform particle size and thorough shredding is the big advantage of this technology. The Uni-Shear operates at a higher speed – 80 to 100 rpm – and often requires a dust system. Single rotor shredders are great for paper and plastics but are not suitable for ferrous or metal materials. Smaller screens are possible, however the effectiveness of the system diminishes with smaller screens. SSI's Quad shredder is a four-shaft system which incorporates the best features from the other technologies. It is low-speed like the Dual-Shear and utilizes a screen like the Uni-Shear. The system also produces a uniform particle size like the Uni-Shear and has the benefit of the very low rpm cutting, low maintenance, and low dust characteristics associated with low-speed Dual-Shear shredders. The Quad is metal tolerant so it can be used for heavier product destruction applications such as hard drives and whole computers.