Conveyor maintenance system built around high-power magnets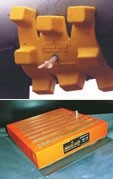 Developed in Canada by Magna-Skin Technologies, Inc. the Magna-Patch reusable magnetic patch and the Magna-Plate wear plate fastening system are patented magnetic products designed to provide quick, secure patch solutions in high-wear situations or during breakdowns, in conveyor applications. "The quick fix magnetic patch system is quick and simple to use and can reduce expensive maintenance downtime," says Alan Bowler, Managing Director of Horizon Conveyor Equipment who distributes the products. Magna-Patch is pressure rated up to 60 psi and provides an extremely quick, secure means of repairing holes in steel pipes, flat back elbows, silos, chutes, hoppers and other steel susceptible to abrasion. The reusable patch system is simply positioned over the worn out area and is securely held in place magnetically until the next scheduled shut down. Magna-Patch is designed to reduce downtime, material cost, material loss and clean-up costs associated with highly abrasive conveying systems. Magna-Plate is an innovative wear plate fastening and replacement system that combines an impact/abrasion resistant material embedded with powerful magnetic elements. The magnetic elements secure the ferrous wear plate or a steel-backed ceramic wear surface to the Magna-Plate impact/ abrasion resistant surface – providing a quick and simple method of steel/ceramic wear plate fastening and replacement. The permanent magnetic energy is maintenance-free and will last virtually forever.

The Magna-Plate wear plate fastener also eliminates fire hazards and time-consuming welding, grinding and gouging associated with typical wear plate replacement. By eliminating bolt holes and welding, Magna-Plate will increase wear plate life while reducing wear plate costs.