Automated side loader updated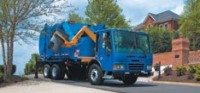 Heil Environmental has updated its popular Rapid Rail continuous pack automated side loader. Improvements have been made to the automated arm structure, electrical system and hydraulics. The continuous pack body, with its patented paddle packer design, is unchanged.

To strengthen the arm, engineers designed a tapered cross-section main lift beam to better match the stresses imposed on the backbone of the lift. The cross section grows taller near the pivot point of the lift where maximum stress occurs, and the lift beam is precision-cut using laser technology. The grabber gears also have been beefed up, with 80 percent larger teeth.

The Rapid Rail's former electrical system which used limit switches, has been redesigned with modern proximity switches, which need minimal adjustment.

Other key features of the updated Rapid Rail automated refuse and recycling collection vehicles include: electrical cab controls with a "soft shift" valve, metered by advanced controls for smooth operation; flexible, protective housing for all of the hydraulic hoses; an easily accessible lift valve; and a modern PLC (programmable logic controller) for sophisticated electrical diagnostics.

All new parts have been designed to retrofit to the thousands of existing Rapid Rail continuous pack automated side loaders in the field. Traditional Rapid Rail features retained on the updated version include: unique arm geometry with a direct line to the hopper and no 'kick-out'; excellent cart visibility; eight-second cycle time; lift capacity up to 1,600 pounds; eight-foot reach; and high-tensile steel construction that makes the floor and hopper walls strong. Plus, as with all Rapid Rails, units use a paddle packer that continuously sweeps the hopper and packs the load. Since this design requires no packer panel to slide into the body, there are also no shoes, guide tracks or guide rails to wear out, and it's never necessary to clean out behind the packer. All hydraulic cylinders are accessible from ground level. The packer cylinder is located under the body, which protects it from material contamination, and eliminates the need for technicians to crawl into the body to service it. Additionally, RapidRail has fewer cylinders to service, using only two cylinders to raise, lower and lock the tailgate.
Company info
2030 Hamilton Place Boulevard, Suite 300
Chattanooga, TN
US, 37421

Website:
heil.com
Read more
Related products