Compact high production chipper produces uniform bio-mass chips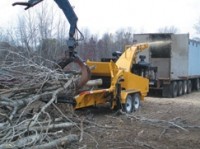 The Woodsman Model 334 is a compact, high production chipper designed to produce a uniform bio-mass chip. This unit features an eight-foot conveyor, which allows easier processing of large materials such as whole trees and multiple tops. The in-feed opening is 22 inches high by 36 inches wide and offers a cutting drum that provides two full 36-inch wide knife cuts.

The Model 334 is radio remote controlled, which conveniently allows the operator to control the feed system and discharge chute from a distance. Woodsman's directional discharge chute is capable of a 50 degree horizontal shift, allowing the operator to park two trailers side by side and fill them consecutively. With the Model 334 the operator can fill 48-foot trucks completely, and as a result has become an affordable unit for the bio-mass industry. The Model 334 is an excellent choice for contractors who need to dispose of high volumes of material in a quick and efficient manner. Its compact and easy design makes it an efficient to maintain and effective unit to operate, and units are offered with up to 400 horsepower.