Plastic containers provide alternative to steel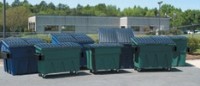 Otto Environmental Systems North America, Inc.(OESNA) recently announced the launch of its Momentum series of rotationally moulded plastic commercial containers. The new series is part of a manufacturing and sales/distribution agreement between OESNA and Waste & Recycling Plastic Containers, an experienced container manufacturer out of Arizona.

These new plastic dumpsters are up to 30 percent lighter than comparable sized steel containers, and come in six different sizes, some with different configurations. The two-yard rear load container is the only plastic rear load dumpster in the market, according to the company, and the front load versions of the containers come in two, three, four, six, seven and eight yard sizes. Momentum series containers are designed to be low maintenance and dent resistant, easy-to-manoeuvre, are ideal for wet or humid climates, will not rust or corrode, and are available with flat or slanted tops.

All containers have powder-coated steel reinforcing at key areas and extra support in corners and sides to provide strength. "We are confident that this new line of containers will bring value to those haulers that are looking for an alternative to steel dumpsters for whatever reason," says Steve Stradtman, CEO of OESNA.