Compactor crushes and compacts in one motion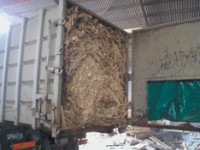 Technivalor's new screw compactor is designed to crush and compact materials in one motion, and will increase compaction rates, while lowering transportation costs and tipping fees by up to three times, according to the manufacturer. Units feature a unique manufacturing configuration, and are able to achieve extremely high compaction ratios, filling a 40 cubic yard container with three times more material than traditional ram compactors. Approximate compaction weights with Technivalor Inc.'s screw compactor based on a 40 cubic yard container are: cardboard - 8.5 tons; wooden pallets - six tons; plastic film - 6.5 tons; and other waste - 10 tons.

These units are easy to maintain with an all electric drive and include a small footprint and a universal adaptation plate for standard containers. An independently driven feed-screw for cardboard waste forces bulky and oversized materials ef-ficiently into the compression chamber, and a pre-crushing screw provides extra fast processing.
Company info