Redesigned material handler introduced to scrap market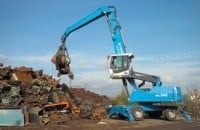 The redesigned Terex Fuchs MHL 340D Material Handler is designed to offer scrap handlers the ability to lift higher, reach farther and work faster than its predecessor. Greater reach and lift capacities are achieved through a larger undercarriage and improved boom kinematics, and units employ a two-circuit hydraulic system that minimizes power dissipation during operation to maximize machine performance.

The new boom and stick design on the MHL 340D's loading system have been engineered for maximum lifting capacity. With an operating weight of 60,627 – 63,934 pounds (27.5 – 29.0 t) and increased lifting capacity on the loading system, the MHL 340D offers a stable platform to pick and place more material at one time in its different reach ranges. It also comes with the choice of either a 41.4-foot (12.6 m) or a 45-foot (13.7 m) reach configuration.

With its newly designed undercarriage which includes larger outrigger cylinders and wider stabilizer support beams, operators will notice increased stability on the MHL 340D. It is also designed with increased pivot, or swinging torque which allows the machine to get up to full turning speed more quickly. A new two-circuit hydraulic system provides operators with precise, smooth handling and more freedom in work motions, and the design employs a dual hydraulic pump design – one pump is dedicated to joystick functions, and the other pump serves all other functions – which allows for simultaneous operation of dipperstick/grab, as well as dipperstick/boom, movements for increased productivity and faster work cycles. "This innovative new hydraulic system offers operators proportional control and overlapping work motions for smoother manoeuvring even with the heaviest loads," explains Steve Brezinski, Material Handling Product Manager for Terex Construction Americas. "Hydraulic performance from this new system is consistent and performance-matched for reduced fuel consumption and lower operating costs." The MHL 340D comes with a 171 hp (128 kW) Deutz turbo-charged, fuel-effi-cient diesel engine that complies with TIER III and COM III emission standards, a 12 percent horsepower improvement from its predecessor. Sound levels have been lowered on the MHL 340D by more than 3 dB for quieter operation, and the unit is engineered with a state-of-the-art load-sensing control system that protects against overloading and bogging down the machine, guaranteeing peak engine performance in every speed range. The design of MHL 340D also includes separate engine and hydraulic cooling systems to ensure temperatures stay within optimum range during operation, and noise emissions remain low. Options include a 17 kW generator for powering magnet attachments, and additional "clean air" options such as reversible fans help provide the machine with an extra level of protection in pollution-prone conditions.. Maintenance is a simpleprocess on the MHL 340D, as all major components are located within easy view and reach for service technicians on the ground.

In addition to its enhanced performance features, these units include a new ergonomically designed cab that hydraulically elevates for an excellent view of both the task at hand and the equipment. An easy-to-scan display offers operators the ability to instantly monitor essential operating data on machine functions, including fuel level, coolant temperature and hydraulic oil temperature. Plus, a contoured, air-cushioned seat with lumbar support, as well as arm and head rests, allows operators to work for long hours with minimal fatigue.
Company info
Related products