Adjustable-screen paper grinder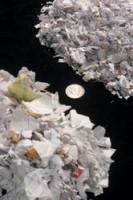 Allegheny Shredders Corp. has introduced the industry's first single shaft grinder with an adjustable-screen. The introduction of the Allegheny SelecShred represents a major development in the document destruction and security industry because it gives mobile and in-plant shredding operators the ability to service a wider variety of customers faster with just a single piece of equipment.

With the SelecShred Adjustable Screen, operators can change the screen size inside their grinders with just the simple push of a button. This has enormous implications for mobile paper destruction companies because it allows them to serve customers with different grinder and document security requirements without removing and replacing their screens between shred jobs.