Mobile top wheel wash system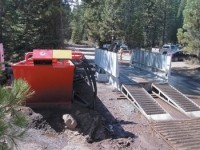 The MobyDick Mobile Top is a totally new wheel-washing system. Units are surface mounted, fully mobile, and designed for high levels of efficient wheel washing. A Two Tire Revolution System is used where the degree of truck wheel soiling is medium and high portability is required.

Units are ready for operation in three hours. The wash area equals two complete tire revolutions, and features include integrated water recycling and automatic sludge removal. The Mobile Top's wash technology is a proven wheelwash design of high volume focused flushing of the tires and chassis at low pressure. The Mobile Top consists of a 22-foot long wash unit with entry and exit ramps and a surface-mounted recycling tank with automatic sludge evacuation.

The Mobile Top's innovative design includes the collection and transfer of sludge from the wheelwash to the above ground solid separation and wash water recycling tank system via two sludge pumps mounted in sumps on the sides of the wash unit.