Laser device measures methane from a safe distance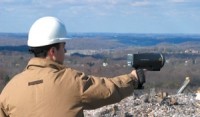 Ameasurements can be a challenge inchieving highly accurate methanegas transmission networks, on landfill sites and in other areas where methane migration, leakage or build-up poses a risk to workers and the surrounding environment. The Laser Methane, a remote hand-held detection device now available from Crowcon, delivers accurate methane surveys without requiring direct contact with methane gas, allowing concentrations in parts per million to be detected from a safe distance.

The lightweight Laser Methane is highly selective and will not give false readings, even when other gases are present. It can detect methane at concentrations between 10 to10,000 ppm-m up to 490 feet away in less than 0.1 seconds, even through glass. The unit can also be fixed in a permanent position to scan a given area. The portable, compact device comprises a single gun unit with no additional parts or battery packs, making it easy to carry and operate in the field. It has a built-in test cell which self-tests the instrument at switch-on and during use. When methane is detected, the basic unit's LED light and buzzer give visual and audible signals. There is also an upgrade option with an LCD display of actual gas readings in a graphical format which may be saved to a built-in SD memory card and downloaded to a PC; the card is standard with the 06A Model.

Accessories include a spare battery pack and charger, soft carry case, hand and shoulder straps and earphones. An optional scope is available for long-range targeting of the unit. The Laser Methane conforms to US laser regulations.