PR-770 latest in PRI-MAX line of primary reducers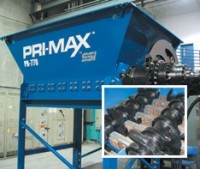 The SSI model PR-770 was designed specifically for the ever-changing needs of today's scrap and recycling markets. The PR-770 is a twin-shaft, dual-drive primary reducer that can process bulk-fed scrap metals, appliances, baled paper and plastics, commingled C&D and just about any other material, according to the company. This versatile machine complements and is part of SSI's established PRI-MAX reducer product line, and offers a versatile and reliable, high-throughput solution to small and medium sized scrap generators, material recycling facilities, C&D contractors and industrial recycling operations.

The PRI-MAX line of low speed, primary reducers processes up to 150 tons per hour of a very broad range of waste materials. High torque and superior shock-load protection allow PRI-MAX to easily handle mixed C&D, mattresses, carpets, railroad ties, stumps, furniture, appliances, drums, household refuse, and many other materials. A patented, twin-shaft design, with aggressive bi-directional cutting action, maximizes grabbing ability and production rates, while minimizing jamming and wrapping concerns, and an "open" style, vertically-fed cutting table allows fines and abrasives to fall through, minimizing unnecessary wear. PRI-MAX units are designed to provide very low operating costs, with cutters which last as long as 3,000 hours or more.