US company recycles first artificial turf field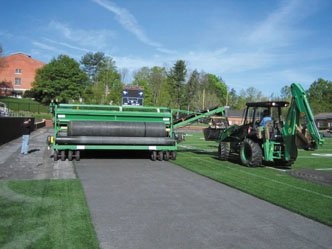 FieldTurf is a company based out of Calhoun Georgia whose goal from the start has been to "...make synthetic turf that is equal to or better than the best natural grass."
Recently, the company achieved a first in the industry by recycling all useable parts of the artificial turf system at War Memorial Stadium in the state of Arkansas. The field was removed and recycled after stadium officials decided to upgrade the surface. The company says the recycled turf from War Memorial will be shredded and converted into useable materials for new artificial turf applications.
According to FieldTurf, the environmental benefits of artificial grass have been well documented over the years. With over 4,000 installed artificial turf fields in the U.S, Canada and Mexico, FieldTurf products have saved over 675 million gallons of water, 6.7 million pounds of pesticides, and have reused over five million tires.
The infill of FieldTurf's artificial turf (the actual base of the product, below the fibres which act as the blades of grass) is made from a mix of silica sand and cryogenic rubber – rounded SBR rubber, which is a synthetic copolymer consisting of styrene and butadiene. Recycled tires used in the manufacturing process are cryogenically frozen and shattered into smooth, clean-cut granules, which when in use with the silica sand as artificial turf infill, detract microscopic air bubbles and resist floating or displacement in high-use areas.
When end of life FieldTurf fields (which are 100 percent recyclable) are removed, the company uses the Green Machine ( shown top ) which they say is the only unit in the industry with the ability to remove both the rolls of artificial turf and infill unharmed. Once pelletized, the polyethylene material from the turf can be used in many applications.
"We couldn't be prouder that our surface will represent the first artificial turf field to be fully recycled," stated War Memorial General Manager Charlie Staggs. "FieldTurf has proven to be the greenest company in the industry with the highest performing products – a combination that is very impressive." "This is a big step forward for our company and our entire industry," stated FieldTurf CEO Eric Daliere. "Being the first company to successfully remove and recycle a field demonstrates our leadership in the industry on environmental issues."
FieldTurf