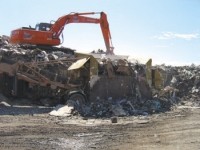 Vibroscreen mobile screening plants are designed for a wide variety of applications in recycling, quarry, gravel pit and sand pit operations, as well as for landscaping companies, soil and compost producers, landfill site operators, and soil decontamination enterprises.

Units are highly customizable. Hook or fifth wheel towing rigs are available, as well as a totally enclosed control panel and engine hydraulic pumps. Rubber vibrating plates are used to prevent feed blockages, and abrasion-resistant, CHT 360, scandia 400 steel plates are used.

Some other features on Vibroscreen screen plants include: a heavy-duty chassis and spring-mounted suspension; heavy-duty hydraulic cylinders; enough horsepower to drive peripheral equipment; easily removable screens that can be replaced in less than 20 minutes; only four grease fittings; and a fuel tank sized for over ten hours of uninterrupted operation.

Air brakes are available on models 55 and 75, and electric brakes are available on the model 35, as well as running lights to meet safety code standards.
Company info